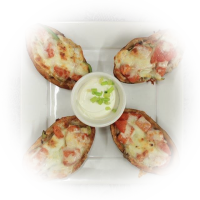 Starters
Ready to start your meal with a bite to share.
Looking for the right appetizers to share with your family and friends. Earth Wind and Flour offers Grilled Cheese Dippers, Sliders, Beer Battered Mushrooms, Beer Batter Vegetables, Cheese Marinara, Pizza Skins, Chopped Italian Salad and soups like our famous Minestrone and our daily soups.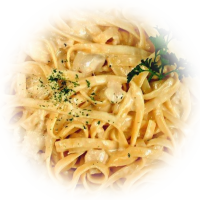 Pasta
Discover the perfect mating of Italy's most popular pasta's
Our pastas are served with your choice of any of our outstanding noodles. Spaghetti(regular or wheat), Linguini, Rigatoni, Penne, Fettuccini, Angel Hair, Rainbow Rotelli. We have homemade sauces that Marinara, Meat Sauce, Marinara with Mushrooms, Garlic and Oil, Alfredo Sauce, Pesto Sauce, Pomodoro Sauce You can add any of the following meats or seafood to your pasta Meatball, Sausage, Chicken, Shirmp and Scallops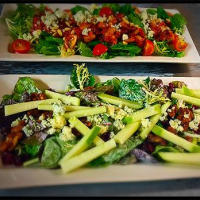 Great Salads
California Italian Salads
California at its best. A variety of fresh ingredients, many local to Southern California, artfully blended into our popular salads. All salads are served with your choice of our House Italian Dressing, Honey Mustard, Thousand Island, Bleu Cheese, Ranch, LoCal Italian or Fat Free Honey Dijon.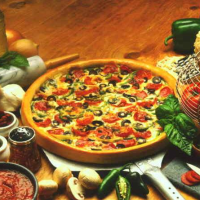 Pizza
Our Greatest Creation
People claim our pizza is number 1. It may be because of the artful blending ingredients that comes after years of experience. Or the unique taste of the dough, or the superior quality of the ingredients. Somehow, all these come together and make a very special pizza. Our regular crust is available in 10' and 14' sizes. We also offer extra thin crust and thick crust. * The Original- Cheese and Tomato Sauce *The Classic-Mushroom and Pepperoni *House Special-Mushrooms, Pepperoni, Sausage, Bell Pepper *Vegetarian Special-Mushrooms, Onions, Tomatoes, Bell Peppers *Southwestern Chicken Pizza-Chicken, Tomato, Cilantro, Avocado and Jalapeno *Tropical Canadian-Pineapple Slices and Canadian Ham *Hi-Tech Vegetarian-Eggplant, Basil, Garlic *Pizza Altobello-Extra thin crust, mushrooms, eggplant, basil, cilantro with Mozzarella, White Cheddar and Parmesan *Barbeque Special Pizza-BBQ Chicken, Cilantro and red onions Create your Pizza with a variety of toppings available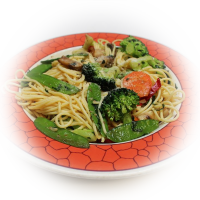 House Specialties
Our classic house specialties are made for all guess to enjoy for any taste buds. Comes in lunch portion or family style. We serve Pasta Primavera, Chicken Primavera, Seafood Primavera, Lasagna, Vegetarian Lasagna, Chicken Parmigiana, Chicken Scaloppini, Eggplant Parmigiana, Spicy Italian Sausage and Peppers, Cheese Ravioli, Three Cheese Ravioli. You can also add a house salad to any of the meals.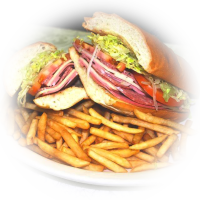 Subs
A classic Sub sandwiches made in too a true meal that you cannot pass up
Choose your side, chips, pasta salad, fruit salad or cole slaw. All Sub-sandwiches are served with pickles. You can substitute any of our premium sides that include Waffle Fries, Sweet Potato Fries, Shoe String Fries and Beer Battered Onion Rings. Pizza Sub Meatball Sub Turkey, Avocado and Cheese Sub Cold Cut Sub Sausage Sub Chicken Parmigiana Sub Steak Sub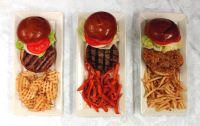 Signature Burgers
Looking for a great burger in Santa Monica
Time to stop and have a classic signature burger in the heart of Santa Monica. Earth Wind and Flour serves grilled chicken breast, Hamburger Patty, Turkey Burger Patty, Veggie Burger Patty. All served with pickles. Choose your side, chips, pasta salad, fruit salad or cole slaw. All sandwiches are served with pickles. You can substitute any of our premium sides that include Waffle Fries, Sweet Potato Fries, Shoe String Fries and Beer Battered Onion Rings. Our Signature Burgers: Old Fashion-Lettuce, Tomato, Onion and Mayo Italian Style-Caramelized Onion, Mayo, Bolognese and fresh mozzarella. Served on brioche bun. Rodeo Style-Bacon, Cheese, Onion Ring topped with BBQ sauce House Style-Bacon, Cheese, lettuce, tomato, onion and mayo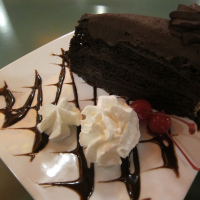 Dessert
Time for dessert
When you come to Earth Wind and Flour our portions are generous and perfect for sharing or taking home but we encourage you to save room for dessert. New York Style Cheesecake Chocolate Suicide Cake Carrot Cake Tiramisu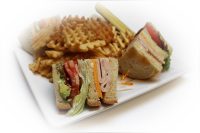 Sandwiches
Choose your bread, toasted whole wheat, egg, rye or sourdough. Choose your side, chips, pasta salad, fruit salad or cole slaw. All sandwiches are served with pickles. You can substitute any of our premium sides that include Waffle Fries, Sweet Potato Fries, Shoe String Fries and Beer Battered Onion Rings. Sandwiches: White Meat Turkey Tuna Salad Sandwich Breast of Chicken Sandwich Club Avocado BLT